External MICE Sales Power based on MICEview date platform and 80.000 verified Vendito contacts
Vendito is our specialist of choice in lead generation for the hotel industry. Personalized Direct Phone Acquisition for Hotels and Locations. Our exclusive telephone acquisition is exactly right for you if you need even more sales and a more individual coordination of needs for your hotel or location. Over a period of 12 months, we speak exclusively – only for your hotel/location and on your behalf – with event planners and thus generate additional qualified enquiries.
All MICEview partners getting a special test offer on request. Please refer to the existing MICEview partnership.
Experienced sales experts market your hotel with a 100% focus on tele-sales.
Contact with the customer
Call on behalf of your hotel brand
Calls
100 - 150 calls / acquisition day
6 hours acquisition
with 36 decision maker / day - At Corporate level 20 decision maker /day
Market analysis
Number of meetings, number of participants, planning phase, etc.
Inquiry
Transmission of the request details to your hotel
ONLINE PLATFORM
Our members present their hotel with videos and many pictures on the Vendito Hotel & Location platform, the most modern and authentic on the market.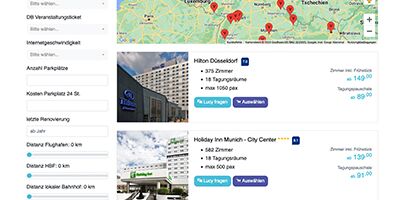 HOTEL NETWORK
After our phone call, our event planners will receive a link that you can use to view your house personally and authentically based on a virtual tour of the house.